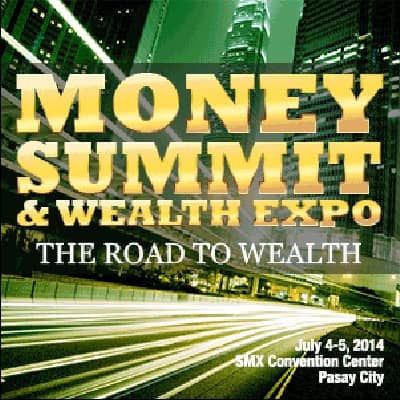 Sorry for being MIA again in this blog. I don't want to make any excuses. :) Practicing "NO EXCUSES Management". ;)
Anyway, this is my second time attending the Money Summit. I attended last 2010. Review of the summit for that year can be found
here
.
I was blessed enough to be able to attend the Money Summit and Wealth Expo 2014 for FREE. It was indeed a BIG Blessing. I was thinking of attending the summit months before but never take any action. I just keep on asking people if they will attend the summit. Unluckily, friends I wanna go with was not going and it made me think of attending as well. Call it lame excuse and procrastination. But maybe nothing just happen. OR should I call it "LAW of ATTRACTION".
Few days before the summit, a friend of mine who is also a speaker in the summit ask me if I wan't to attend the summit because she has 1 more available slot for her delegates. And who am I to say no to such a good offer. It was an answered prayer.
Prior to the event, I can't make up my mind if I want to attend stock market and real estate investing because I am doing both. I want to attend both but I can't because they are happening at the same time.I need to select the classes I would attend. But on the day of the event, I got surprised when the ID Badge given to us as delegates were VIP. It was a JACKPOT because paying for such option would cost me Php20,000. Dilemna solved. And so, I attended the Stock Market Investing classes in the Morning and Real Estate Classes in the Afternoon. And I would say, I learned a lot. It empowered and inspired me again. It puts me back on track from my hibernation.
Let me share with you some of the key points I learned from the two day seminar.
DAY 1
Fitz Aclan: Making Money at any Market using Technical
Analysis
What to know:
1. What is the trend?
When will the trend change.
Manulife Presentation : Estate Planning
Wealth is Relative. The more wealth you have, the more relatives you have and vice versa ;)
Estate Planning is imporatant, esp. if your assets are not liquid.
Salve Duplito: Scam Busters
Php 60B - Lost in Scam
It is our duty to share the noise on SCAM.
People into Scams normally doesn't want to admit that it is a scam that they get into, because normally, if no one makes a noise, they will continue to earn until the mastermind run with their money. :(
Hans Sicat
President of PSE
What's up with PSE???
1. PSE EDGE - Mobile Apps on Viewing Companies
- Avail on Android and IOS
- Free
2. PSE Tradex
3. PSE now in Facebook and Tweeter
*** Inflatin might be higher this year. Government spends 2.5% of GDP in Infrastracture
3 Money Making Machine
Fitz Villafurte - Forex is riskier than Stock Market
Tips: Mange your time for trading, Know if you have the mindset, control your greed.
Ivnesting - Long TERM
Trading - Speculating
STRATEGY:
Short TERM: FOREX
Gain from FOREX being put into Stock Market for Long TERM.
Dividends from Stock Market are reinvested.
STOP LOSS: 10%
It's all about money Management
" THE TREND IS YOUR FRIEND, DON'T GO AGAINST IT
".
DAY 2
STOCK MARKET INVESTING
Technical Analysis, NOT Memorization.
1. Find Something that is going up and tide it. (DNL,ICT)
2. Find something that is trading higher.
- find Logic in price movement.
For Observation: FPH,MARC,LC,SMC, ROCK, CPM,SECB
Stock Picks:
Puregold - 10% Swing
Nickel Asia -after consolidation
DNL
There is no time frame for consolidation. It can take days, weks, months and even years.
SPEAKER2: Charmel DELOS SANTOS
1. Know the business environment
2. Concepts - Value investor, trend follower
- know what is good for you.
- know yourpreference.
The market will do what it wants to do.
MONEY IS NOT WORKING FOR YOU. YOU ARE WORKING FOR YOU. STAY IN CONTROL.
SYSTEM:
1. 10 parts
2. PRocess
3. Perform Review
4. Review/ Improve.
Major RISK AREA in INVESTING
1. System - set a target and measure performance
2. System
3. Personal
VELOCITY of Money - pag-gamit ng pera ng paulit-ulit (money circulation and re-use)
CHARMEL Business Model - Entry, Stop, Exit ad Position Size
Market Risk Factor
Market Dynamics - world affairs,debt issues, movement of meny to asset classes
Market Type Changes - Bull, Bear Chicken
Market Players - Government, Big Money, Companies
Inter-Market Risk - Global Currency Trends.
"MONEY GOES WHERE IT IS TREATED WELL".
Personal Risk Factor
- Investment Psychology - goals, beliefs, conflicts
- Decision Making - Efficiency, over confidence
- Skills - Professonals are in the market. How do you do business with them.
- Personality - are you a rational thinker., emotional?
- Timeframe and Temperament.
POSITION Sizing
- How much you will Risk / Lose in that Trade
Structured Ivnesting Approach
- Bisiness Plan
- Market
- System
REAL ESTATE INVESTING:
EDEN Dayrit
- She was not able to make it to the Seminar due to health reason but she did a video.
TIPS:
1. Build Connections - Pursue People you want in Buisness
2. Just Start. Just do it. Just take the 1st step.
3. KEEP MOVING FORWARD.
Maves Angeles
Create Happy Moments
Our Imagination is our Limit but the world is limitless.
Stop playing unnecessary imagination in our mind. Think Positive.
Stop thinking of what other people will say.
NOLI Aleje" Finding the Flip"
Beleive on who you think you are.
WHY REAL ESTATE - can take care of itself.
When you buy a land, you can't make a mistake as long as it is good.
WHY FORECLOSURE? Property Integrity
CONDO CRAZE - we will have more consumer loans in few years from now. Currently @ downpayment/inhouse.
FORECAST LOANS: Php 1,118,200,000
44,728 units - New Assets Coming Soon (Importance of Liquidity)
Inflation is low.... Not GOOD to hold on properties
Inflation is high..... Good due to appreciation.
Interest Rate - might go up already in the next few months.....
- Be CAREFUL with Annual Repricing
In choosing a property, things to consider:
1. JOB GROWTH
2. PATH of progress (ex. SLEX)
Things to Remember in Checking Properties:
1. Know the History of the Property / Story Behind.
2. Visit the Property M-F, Morning, Lunch, Evening
3. Know Road Conditon at all times.
4. Bring an Index Card for details - front, front left, front right
5. Take picture of the most broken part of the property for negotiation with banks.
6. Know leagal Status
7. Remember - Dirtie or more problems, the cheaper.
8. As much a possible, don't buy wooden houses.
WILSON LEE FLORES (MAXIMIZE INCOME on RENTAL PROPERTIES)
1.Compute and Compute
2. Check Tenants / Be Careful with Tenants
3. Psycho your Rental Prospects.
- People tend to like people on their right.
4. Be nice to other people. Be Fair. Be Humble.
RAYMOND LIM
- "PROFIT FROM PURCHASE"
- Have an Exit Strategy
- REAL ESTATE INDUSTRY WILL NOT BE OBSOLETE
- History will always repeat itself
- Know the Real Estate Cycle
>> NORMALLY IT CHANGES EVERY 2 QUARTERS
>> KEY: Demand vs. Supply
>>> Invest when there is Bigger Population.
-"WHEN YOU FIND VALUE, YOU 'LL FIND MONEY"
Key Indication - Population Demographics
RULE of EXCEPTION: PERSONAL - BUY NOE
-Make most Money @ Flipping options (OPTION TO PURCHASE)
"MOVEMENT OF MONEY IS MOVEMENT OF ENERGY"
-"Property Market is always driven by ONE FACTOR - LIQUIDITY."
- The Higher the LIQUIDITY the lower the Interest Rate.
"ALWAYS THINK INVESTMENT"
>>>> It's Either you Invest or you Consume."
THINK OF DELAYED GRATIFICATION.
BE COMMITTED TO FINANCIAL FREEDOM.
INVEST IN YOURSELF.
INVEST INYOUR MINDSET.
THE PROPER TIME IS NOW.
Do your own chart/ Research.
Minimize Risk. Maximize Returns
BGC - 5 years to profit ore, if possible, transfer money to other property that will give more return.
In summary, I was very happy that I was able to attend this Summit. I learned a lot. The information and tips given by the speakers are still echoing at the back of my mind. Truly, Financial Literary is not expensive compared to IGNORANCE.
I invest in education :)
Every Summit is Different. If we remain open and humble, we will learn a lot.
FOR MY RATING:
VENUE: Check (Better than 2010)
PRICE: Check
TOPICS: Check
SPEAKERS: Check
Recommend: Check :)
Cheers! See you on the next Money Summit!